So apparently I can write about whatever I please, and I know that I have in the past. I guess I just feel strange about constantly wanting to branch out. But I did aim for this blog to be about me, and the fact that I just happen to live my life with Type 1 Diabetes. So here I am breaking two of those unwritten blogging rules: 1) Do not go off topic & 2) Never post twice in one day.
Tonight I present another man/guy/boy from my imaginary list of lovers, which we all know is topped by the one and only Justin Randall Timberlake.
Maksim Chmerkovskiy
from Dancing with the Stars, yes I'll admit I watch the show however crappy it may be. Anyway I tuned into ABC tonight for what I thought would be the beginning of another round of weekly Maksim fixes. You know a little hip shaking, top buttons undone, slicked back hair, Ukranian delightfulness. What did I find you may ask. NO MAKSIM! That's right, after his amazing season with Spice Girl Mel B, he's not on the show this season! I think I might die. I guess I'll just have to watch my
Dancing with the Stars Cardio Workout tape
which I bought purely because he is one of the instructors. De-pressing.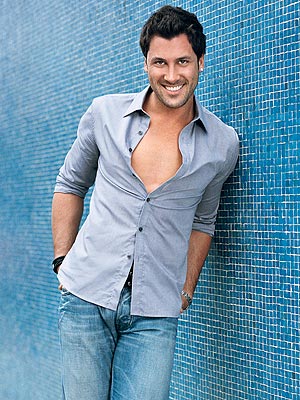 I realize that this post outs me as a shallow, man/guy/boy crazed teenage girl, and I'm okay with that.
I'll be crying myself to sleep tonight. Maksim how could you do this to me?!